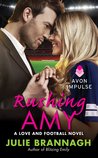 Rushing Amy
by
Julie Brannagh
My rating:
2 of 5 stars
Ah, contemporary romance. I keep trying to love you, but we just can't seem to connect. Maybe someday I will find the one that gets me hooked, but this wasn't it.
Amy Hamilton (Emily's younger sister from
Blitzing Emily
) meets the dashing, successful, and gorgeous Matt Stephens in the bar after her sister's wedding. She holds him at arm's length, he pursues her, and some nonsense happens that could have been avoided, which is my main issue with contemporary romance. But I did not hate both characters, in fact, I rather liked them, so I am giving this 2.5 stars. It's pretty ok, and if contemporary romance is your thing you will probably rate this much much higher.
View all my reviews