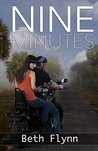 Nine Minutes
by
Beth Flynn
My rating:
3 of 5 stars
Holy Stockholm Syndrome, Batman! My mind is reeling. I have never read a book like this. I still don't know what to think. I'm conflicted on my rating, so for now it's getting 3 stars.
Fifteen-year-old Ginny is abducted by a motorcycle gang member and "given" to the leader, Grizz. What follows is a twisted, dark story of violence, love, betrayal, and loyalty. I don't want to give too much away because what happens is interesting. It's written from Ginny's point of view, but you get some other perspectives as well as the book unfolds. I've seriously not ever read anything like this book. I'm sure there are other books out there like this, but since it's not my typical genre my head is spinning a little.
The writing was decent but not perfect and I had to suspend disbelief quite a few times--seriously, if someone kidnapped me I would do anything to escape rather than just shrug my shoulders and give up--but the story was interesting. 3 stars for now.
View all my reviews