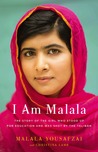 I Am Malala: The Girl Who Stood Up for Education and Was Shot by the Taliban
by
Malala Yousafzai
My rating:
3 of 5 stars
It is a miracle that Malala is alive to tell her tale. She shares her story, from growing up in Pakistan, living through the Taliban, and her life now in England.
Talk about a reality check. This book really helped me to realize how much I take for granted in America. I can't imagine living in a world where so many things are dictated to me: how I dress, who I leave the house with, even my education. I found myself shaking my head as I read, unwilling to believe the world I was having described.
Stay in school, kids. Appreciate your precious freedoms. Argue, explore, and live life!
View all my reviews