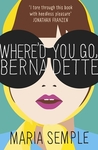 Where'd You Go, Bernadette
by
Maria Semple
My rating:
4 of 5 stars
True confession time: I'm a bit socially awkward like Bernadette. Like 2 steps removed. So I can relate to the cringe moments and had to laugh. Plus, who hasn't dreamed about escaping for a while? Just me? Oh, ok.
I enjoyed how it flowed, with the letters, emails, and inserted thoughts from Bee. I think the odd format just worked really well for the storyline. The family was flawed, the neighbors and school moms were flawed. It just hit a lot of really real notes with me.
I found it curious to see some of the reviews. I have to assume you are all well-adjusted people who couldn't relate to the ridiculousness happening in parts, but it all resonated with me. BRB while I pack warm clothes for Antarctica.
View all my reviews