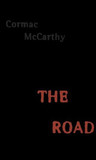 The Road
by
Cormac McCarthy
My rating:
4 of 5 stars
I thought this book was fantastic.
Bleak and depressing, it tells a tale of what our future could be. The imagery is cold. I needed a warm blanket and a cup of tea while reading it. It's the tale of a father's love, a tale of hope, and a tale of life continuing on.
Cormac McCarthy has a way with words. I could picture every location as they traveled along the road. I could feel every cold wind in my bones, and my stomach was clenched in fear and hunger for our travelers. If you haven't read this book, just do it. It left me changed. 4 1/2 stars.
View all my reviews