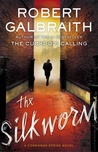 The Silkworm
by
Robert Galbraith
My rating:
3 of 5 stars
I am really enjoying this series. I love both Cormoran and Robin, and can't wait to read about their next big case.
I enjoyed The Silkworm a bit more than The Cuckoo's Calling. I feel the characters were better developed, and the mystery had great twists and turns. In fact, I thought I knew "whodunit" for 3/4 of the book and was surprised by the ending, and the clues I had missed along the way.
I really enjoy Cormoran, and my only complaint is I don't get insights into what he is necessarily feeling. Some of the sections were leaving us in the dark by design (Robin's mysterious errand, for example) but I do want to know a bit about his motivations.
Also, I am dearly hoping we have heard the last of his terrible ex-fiance. She is absolutely the world's worst. Please put that to bed and leave her in the past. More of Al, though. Let's dig into the family stuff a bit to give us more insights into Strike.
Looking forward to reading book #3. This may become one of my favorite private detective series.
View all my reviews