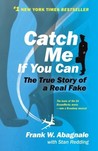 Catch Me If You Can
by
Frank W. Abagnale
My rating:
3 of 5 stars
This book was a lot like the movie, at least what I remember. It was a long time ago.
Con man stories are fun, and it is outrageous to me what he was able to get away with at such a young age. Airline pilot, doctor, lawyer. It's ridiculous. But a couple of things really struck me. First of all, there was an utter lack of remorse. He's smug and proud of what he accomplished. A complete sociopath. He said he felt bad in a few places, but I don't believe him. And the ending was abrupt. It just ended on one of his escapades. I would have rather heard about his punishment through his eyes. It was a strange choice to me.
Overall it was entertaining. Three stars.
View all my reviews