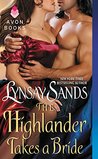 The Highlander Takes a Bride
by
Lynsay Sands
My rating:
3 of 5 stars
I'm a sucker for a kick-ass heroine. No wilting flowers for me, thanks.
Meet Saidh Buchanan. She rides well, shoots well, and talks like a pirate. Sometimes. But sometimes she's a lady. What a paradox! Now meet Greer. Strong, sexy. A big heart under all of those big muscles. He falls for Saidh. She falls for him. But she isn't looking to be strapped to anyone, and I liked that about her. I also love her rowdy brothers, and thought it added a layer of fun to the story. They are ridiculous.
Mystery and intrigue are afoot, and Greer and Saidh look to figure out what is happening in the castle before it's too late. Will they solve the crime? Will they live HEA? You can guess the answer to both questions, and then read to find out if you are right. (Spoiler...you are). 3 stars. I'll go back and read books 1 & 2 as well.
View all my reviews