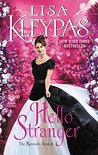 Hello Stranger
by
Lisa Kleypas
My rating:
4 of 5 stars
Garrett and Ransom's story was very satisfying. They definitely belong together.
Two unconventional people, who, on the surface, may seem a mismatch. However, they fit together like puzzle pieces. She's smart, strong, and independent. He's also smart, strong, and independent. Together, they resonate. It's good stuff. He's strong enough to appreciate her brains and independence. He's not intimidated by her career, in fact, he encourages her to be even more of who she is. She, on the other hand, doesn't bat an eye at his job and all that entails. She is probably the only person strong enough to handle him, and vice versa. A match made in heaven.
This story was everything I had hoped it would be. Really can't wait to read West's story next! 4 stars.
View all my reviews