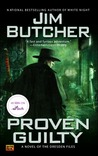 Proven Guilty
by
Jim Butcher
My rating:
4 of 5 stars
Harry's back, newly (and reluctantly) promoted to his role of warden for Chicago. Lots of fun in this one! Set mainly at a horror convention (Splatter Con! haha), we are re-introduced to Molly, Michael Carpenter's all grown up daughter, and she has a big girl crush on Harry. Harry, my favorite white knight in a leather duster, is having none of it. But you know what he wants to have? Murphy, in a big, big way. Yes, my favorite star-crossed lovers may never happen, but at least Harry is taking baby steps in the right direction. Murphy, open your damn eyes, please. Harry is amazing.
My least favorite character, Charity, plays a big role in this one. I'm not saying I like her, but at long last I understand part of her deep-seeded loathing for Harry. Misplaced, mostly, but understandable. All of my favorites are here: Ebenezer, Mac, Mouse, Thomas, Bob and Michael. Michael, in his typical fashion, is the ultimately the savior. Damn, I love him.
We get unexpected allies in the Summer Court and Mab and her Winter Court cronies make another appearance. It's all fun, and as usual, Harry can't catch a break without help from the people around him. Possibly my favorite book of the series so far.
View all my reviews