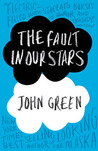 The Fault in Our Stars
by
John Green
My rating:
3 of 5 stars
For those of you living in a cave without access to internet or television, The Fault in Our Stars is about 2 teenagers living with and dying of cancer. It's sad. Not sad enough to make me cry, shockingly, because I love to cry at sad books and movies. Out of Africa makes me sob hard enough to throw myself on the couch wailing. But I digress.
If you don't know the story, I refuse to spoil it for you. Just read it. It's pretty good. And I have read the criticisms that Hazel and Augustus don't talk or act like typical teenagers. It's because they aren't. They are dying, they are a little bit hipster, and they have been forced to look their own mortality in the eye and deal with it. I can't imagine what that would feel like at 16, and I would bet neither can you. Their witty banter and interesting conversations are what kept me from the eye rolling, honestly. The part that bugged me most was her father. Please stop crying about everything around your daughter. Man up, dude. She's the one dying. It struck me as incredibly selfish.
TL:DR. Cancer sucks, and this book is sad.
View all my reviews