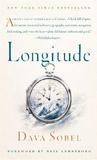 Longitude: The True Story of a Lone Genius Who Solved the Greatest Scientific Problem of His Time
by
Dava Sobel
My rating:
3 of 5 stars
I have a unique talent for getting lost. I would not have been a good explorer. This book just drives that point home for me. I frequently get lost (or, as I like to describe it, take the long way home) and it is a source of humor for my husband when he gets the phone call telling him I have no idea where I am. And Las Vegas really isn't big enough to get lost in.
Anyway, "Longitude" examines the problem of how it could accurately be charted and how many worked tirelessly to find a way. Part history, part science, I found it interesting to see how early minds tackled this problem that we take for granted with all of our technology. It's something I hadn't considered before.
Harrison had an fascinating mind to imagine and invent the marine chronometer necessary to solve the puzzle. And for that, dear sir, we thank you for the innovations that keep us from being lost on this big planet.
View all my reviews