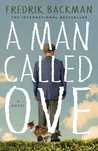 A Man Called Ove
by
Fredrik Backman
My rating:
5 of 5 stars
I truly loved this book. I thought, at the beginning, that I was going to hate it. Ove was crotchy and a really grump about everything. Very unloveable, right? But this book was such a gift. Highly recommend!
Each chapter helped you solve the mystery that is Ove. I kept thinking, Sonya was a saint to live with him for so long. But then the pieces start to fall into place. You see why she loved him. You better understand why he is the way he is. You see him through Parvaneh's eyes, and the eyes of his neighbors, and you are left with a character who is complex, yet exceeding simple at his core. A paradox? Yes, but a good one.
The ending wasn't what I expected, and it made me cry. The real star of the show was the cat annoyance, which is no surprise if you know me at all.
So very glad I finally read it. It gets a very rare 5 star rating from me.
View all my reviews