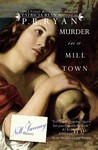 Murder in a Mill Town
by
P.B. Ryan
My rating:
4 of 5 stars
I loved this book just as much as book 1. Why did I wait so long to read it? No clue, because I love everything about the series.
First, Nell is my favorite type of heroine. She is strong, yet still vulnerable. She isn't perfect--there is quite a past to this lady--but she has come through the flames and made her life her own. Will is my favorite type of man, too. Strong, brave, yet very flawed, with a gooey marshmallow center.
Anyway, in this one Nell continues to be a kick-ass governess and even better amateur sleuth. She's called in to help a friend of the family, gets reunited with black sheep Will, and saves the day. And the ending made me immediately want to get book 3. But you know I will wait, because I can't seem to read 2 books in a row by the same author. I have challenges to finish, people!
Good stuff, and a solid 3.5 stars that I will round up to 4 because Goodreads refuses to listen to reason.
View all my reviews