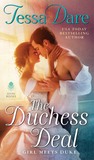 The Duchess Deal
by
Tessa Dare
My rating:
4 of 5 stars
My goodness, but I loved this book. Exactly my kind of story. If you know me at all, this is no surprise. I'm predictable in that way. Plus it's a slight retelling of Beauty and the Beast, and that is my jam, too.
Emma is great. Strong, sassy, smart, and a talented seamstress to boot. She works hard and speaks her mind. Ash is equally great. He's prickly on the outside. Scarred, both emotionally and physically. He's returned from "the war" you see, and is hideously burned on one side of his body. Scary and monstrous looking. People are screaming and vomiting when they see him. Seriously, this was part of the reason I didn't give it 5 stars. He couldn't have been so monstrous, really. It's not like his nose was chopped off, ala Tyrion Lannister. Anyway, he is a broken, bitter man, but you just know he's a softy inside. And he is. One of those brave protector, alpha males that I love in my fiction. He pretends to be tough but Emma breaks through his asshole exterior, and we are on the road to HEA, which is my favorite destination, friends.
Are there obstacles? Of course, this isn't a 20 page novella. You need them to work for it so the payoff is that much sweeter. The nonsense about the Monster of Mayfair was a stretch, but it's ok. I still was rooting for those crazy kids.
4 stars. Can't wait for book 2.
View all my reviews