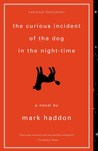 The Curious Incident of the Dog in the Night-Time
by
Mark Haddon
My rating:
5 of 5 stars
**4th time reading this. I absolutely love it, especially on audio.
"Prime numbers are what is left when you have taken all the patterns away. I think prime numbers are like life. They are very logical but you could never work out the rules, even if you spent all your time thinking about them."
Weird confession. I like prime numbers. They make sense to me. I'm a tiny bit like Christopher, and I think that's why I love this book so much. On each re-read, I find something new to love.
What's it all about? It's an interesting perspective into the mind of a boy who is autistic, intelligent in many ways, but still immature to the ways of the world.
Journey with Christopher as he solves the mystery of his neighbor's dog. Travel with him as he strikes out on his own to discover what happened to Wellington, and why. Like me, you might be surprised by the ending. Christopher doesn't necessarily get the answers he wants, but instead gets a lesson in life.
I really enjoyed the different narrator voice from Christopher. I didn't find it gimmicky like some readers, instead I found it to be a delightful journey. Check it out for yourself and see what you think.
View all my reviews