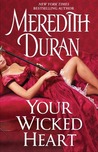 Your Wicked Heart
by
Meredith Duran
My rating:
2 of 5 stars
Sometimes it's hard to decide on a new author when you read a prequel of sorts. Since Your Wicked Heart is book. 0.5 in the "Rules for the Reckless" series, it may not be a fair entry to Meredith Duran's work. I will give her another chance, but I really didn't love this one, and I'm a huge fan of historical romance. I may be a Klingon in temper, but I do have a marshmallow heart.
We journey to Greece to meet Amanda, who has just been jilted at the altar from a viscount. She's just trying to get out of a bad situation with her employer, who sounds like an awful person, and thinks the viscount is a swell chap who she might come to love over time. Well, at least she's honest. However, she meets someone who claims to be the real viscount, and hilarity ensues. Not really, he straight on kidnaps her and she's not smart enough to get her life together and stand on her own two feet. Do you expect them to bicker and then fall in love? Well then, this isn't your first historical romance, because that's one of the usual formulas. But it's been much better done in hundreds of other books. Amanda isn't likable, and rather dumb (2 strikes) and Spence, while eventually charming, brave and loyal, was a bit of a dunderhead as well.
However, it was a shorter novel and I can forgive a little of the bumps in the road. This author will live to see round 2, but the next book will need to be much better to stay in my HEA rotation. 1.5 stars, but rounding up because I did like Spence.
View all my reviews